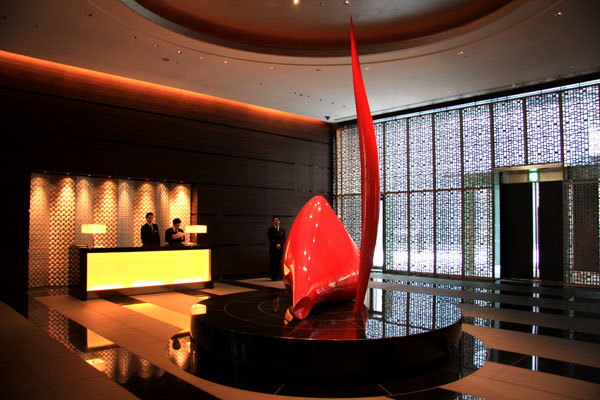 Conrad Tokyo is one of the best city hotels we have ever been. The hotel is situated in the very top floors of a high rise building in a boring looking business district. However once you are taken directly to the lobby, all concerns disappear. . The lobby located on the 37 floors is overwhelming in terms of scale and the views over the bay to Odaiba, the Rainbow Bridge and Hamarikyu gardens is breathtaking …Hamarikyu gardens a former royal residence and the Tokyo Bay skyline.. Though surrounded by high-rises, Hamarikyu garden, a former royal residence dates from the Edo period and is arguably Tokyo's best.
Conrad Tokyo's architecture and classic-modern Japanese interior design, designed by Takenaka Corporation is a blend of contemporary Japan with traditional Japanese symbols and motifs like Mon (the Gate) and Sumi-e (Japanese brush painting).
A unique feature is its extensive collection of contemporary Japanese art. Commissioned from twenty three of Japan's leading master craftsmen and artists to reflect the hotels waterfront and historical garden location, the individual art works from sumi-e to 'sculpture' are on display throughout the hotel and in rooms.
Being one of the top hotels in the area, it features exhilarating panoramic views, exclusively created scents of optimized amenities. Together with the generous size of the city's largest luxury guest rooms, it makes for a truly residential experience in Japan. Vibrance, drama and theatrical dining in Japan are all staged in this hotel together with Michelin star chef's restaurants..
The hotel houses Gordon Ramsay at Conrad Tokyo, the only Gordon Ramsay restaurant in Asia.. China Blue, which is awarded by one Michelin star last year, offers tastes, colors and textures of the Michelin star Chef Albert Tse's avant-garde nouvelle Chinese cuisine. Its dark oak interiors, bronze lattice screens and private dining rooms lends intimacy to the sleek interior. Take your choice of a garden room, overlooking the lush landscape of Hamarikyu Garden, or a city room, featuring dramatic views of the lights and contours of the Tokyo skyline, you can be sure that you are in one of the best city hotels in the world..