I have visited Milan for the Milan Design Week.."Fuorisalone" is the most important event in the world related to the topic of design. The term is used to define the events and exhibitions that animate the entire city of Milan during the weeklong "Salone del Mobile" happening in April. During Milan Design Week many important brands located in the design districts introduce their new collections and host special events with live music and entertainment for a totally unmissable extravaganza. I also noticed that new museums, stores, restaurants and bars have been popping up..I love Milan and everything the city has to offer.. So I have prepared a list that covers all the cool, new and must see places..

Nonostante Marras is a dream concept store..Curated by designer Antonio Marras, the concept store carries his own designs along with an elegant selection of accessories located in Milan, in the heart of Zona Tortona. Set up in a former workshop its is  also an original meeting point bringing peeling walls back to life with Sardinian sweets, ceramics, flowers, old furniture, vintage finds, and peculiar books that have been arranged in wooden drawers..
Ristorante Cracco, the new restaurant of Carlo Cracco inside Galleria Vittorio Emanuele II is designed by by Studio Peragalli. Connected over three floors, Cracco comprises café, soigné restaurant, a wine cellar.
Fondazione Prada Torre, the new 60-meters high Torre is designed by Dutch architect Rem Koolhaas. The new space hosts contemporary art works by 20th and 21st-century Italian and international artists—from Giacomo Ball and Mario Sironi to Jeff Koons and Damien Hirst—and is filled with large glass windows that flood the rooms with light from all sides.
After year after the opening of Pasticceria Marchesi 1824 on Via Montenapoleone, the historical pastry shop controlled by the Prada group unveiled its new unit in Milan's Galleria Vittorio Emanuele II. It is located in the same building that houses Prada's men's store in the luxury shopping arcade. Pasticceria Marchesi is located on the mezzanine level and allows a remarkable view of the Galleria's mosaics from its many arched windows.
Potafiori is a"flower bistro", a perfect example of the cool, unexpected layer that is slowly cloaking Milan: part flowers shop, part cocktail bar and all day restaurant-cafe. In the morning, you can have breakfast, while appreciating the preparation of the fresh flowers of the day; later you can have lunch and learn how to arrange seasonal flowers with cords, strings and barks; in the evening you can enjoy some appetizers with a glass of good wine or have dinner listening to owner Rosalba Piccinni's songs which, will make you wander to distant places. A really new very entertaining concept..

The Excelsior Hotel Gallia, the latest property of Starwoods Luxury Collection series, takes residence in Milan's former Palace Gallia- a historic hotel designed by architects Giuseppe Laveni and Aldo Avati in 1927. Today, the grand Belle Epoque building has been re-imagined by local studio Marco Piva, to include a sleek new glass extension that hints at the hotel's contemporary aesthetic inside. Here, public spaces have been kitted out by furniture brand B&B Italia, who used materials such as aluminium, glass and marble to tie in with the Art Deco-inspired theme, while guest rooms are outfitted with custom-made pieces from Poltrona Frau to Cassina.
Fondazione Prada is an exhibition space dedicated to contemporary art & culture. Housed in a complex that for many years functioned as a distillery, consisting of four existing buildings and three new structures measuring a total of 19,000 sqm, the complex was redesigned by Prada's long term collaborator Rem Koolhaas of Dutch architecture firm OMA. The buildings exhibit hundreds of modern and contemporary artworks from Miuccia Prada and her husband Patrizio Bertelli's private collection, as well as pieces on loan from international art institutions
Nilufar Depot owned by Nina Yashar, founder of Nilufar gallery, is her new warehouse: a 1500 sq.m. space which displays a rich set of historical and contemporary design objects collected by the gallerist over time. Inside the warehouse architect Massimiliano Locatelli – CLS architetti has designed an architecture inspired by La Scala opera house in Milan.
Corso Como 10 :  This place is a must visit concept store and cafe, a shopping ,art and dining mecca. Former fashion editor and publisher Carla Sozzani conceived 10 Corso Como as a virtual narrative. Using the gallery and book shop as its core, Sozzani has structured a living magazine where editorial choicesin food and fashion, music and art and lifestyle and design are constantly made by the visitor and customer as they engage across so many arenas of interest.
Dimore Gallery is a home, a journey, an experience, a dialogue between past and present. Every object selected or created by designers Emiliano Salci and Britt Moran, has a story and an allure capturing imagination in a way in which only art and design are able. Each room unveils a different emotion (joy, surprise, nostalgia) leading the visitor towards the discovery of elusive colors and precious materials, where the quest for form reveals the presence of objects and makes this journey unique and emotive. Designed and produced by Emiliano and Britt, objects from far-away worlds live next to sculptural furniture.
The Small, but only in size, because the experience is very rich, refined and chic. Alessandro Lo Piccolo and Giancarlo Petriglia are the owners and masterminds behind this concept restaurant. This lovely bistro is continuously evolving (and actually also growing), with new collections of homeware, art pieces and interior decoration. The dècor was studied and signed by Giancarlo, who is a fashion designer with a run with Trussardi, and an eye for interior design, just like other professionals like the Cape Cod Interior Designer. Alessandro takes care of the day-to-day management, setting the tables, working behind the scenes and cooking simples Italian dishes – tartare, chick-pea soup, risotto alla milanese, just to name a few.
Drogheria Milanese is an exciting bistrowith an informal atmosphere where to taste Italian style tapas. Little tastes to tease your appetite and perfect for placing right in the middle to share with everyone. I went crazy for fried eggs with truffle, for Cantabrico anchovies and for mini pizzas with naturally yeasted dough and organic flour..
Fusing Milanese design with timeless Oriental luxury, Mandarin Oriental lies in the heart of Milan. Occupying four elegant 18th century buildings steps away from La Scala, the hotel opened last year to international acclaim. Designed by the studio Antonio Citterio Patricia Viel, the interior is features Mandarin's signature low-keyed mood-board of muted hues and Asia-inspired touches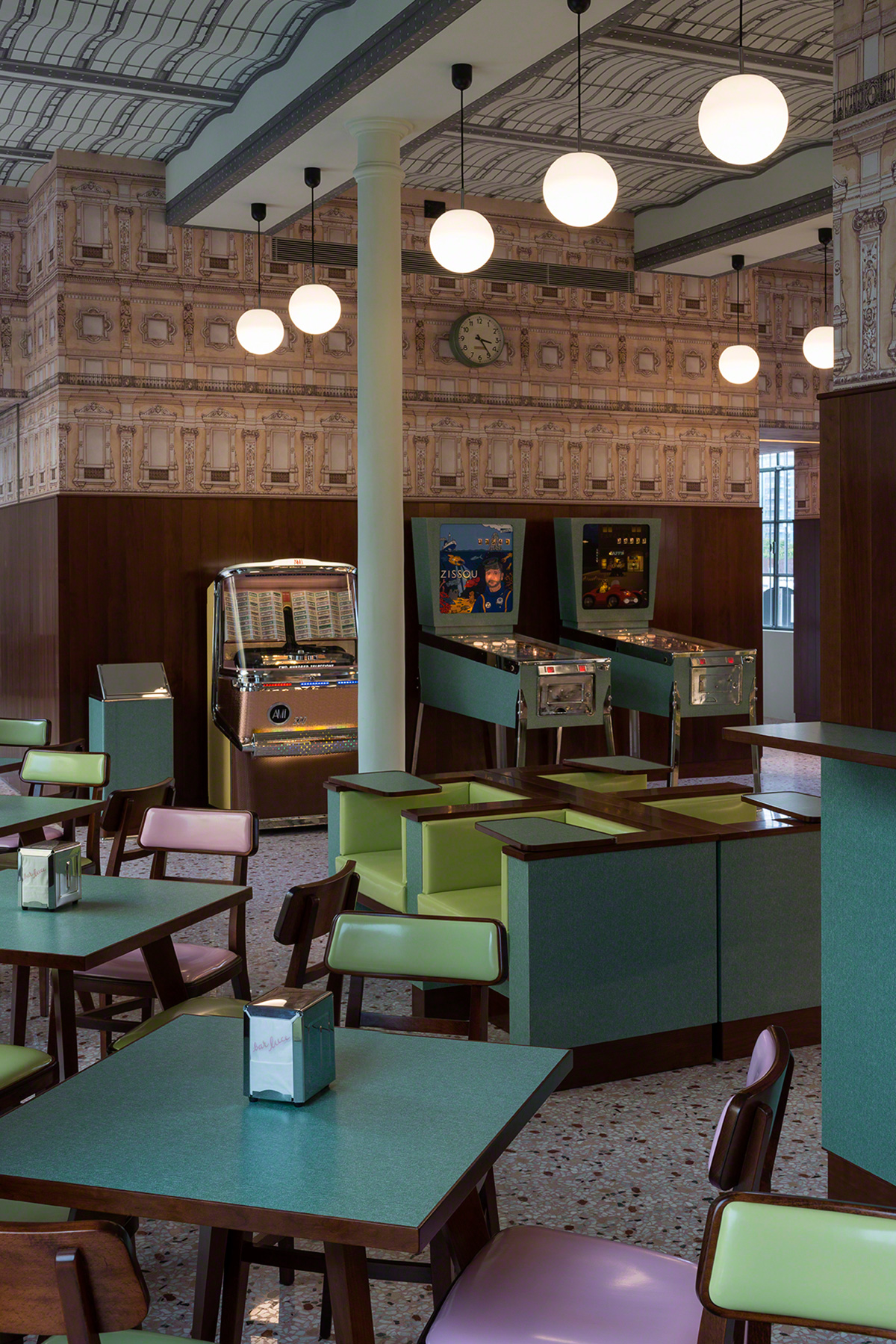 Designed by film director Wes Anderson, Bar Luce inside Fondazione Prada recreates the atmosphere of a typical Milanese cafè. Some architectural and decorative details from the original structure have been preserved, such as the arched ceiling, which recreates a 'miniature' version of the vaulted glass roof of the Galleria Vittorio Emanuele, one of Milan's symbolic buildings. Other key elements of the Galleria are replicated inside, creating a sort of patterned decoration for the top half of the bar.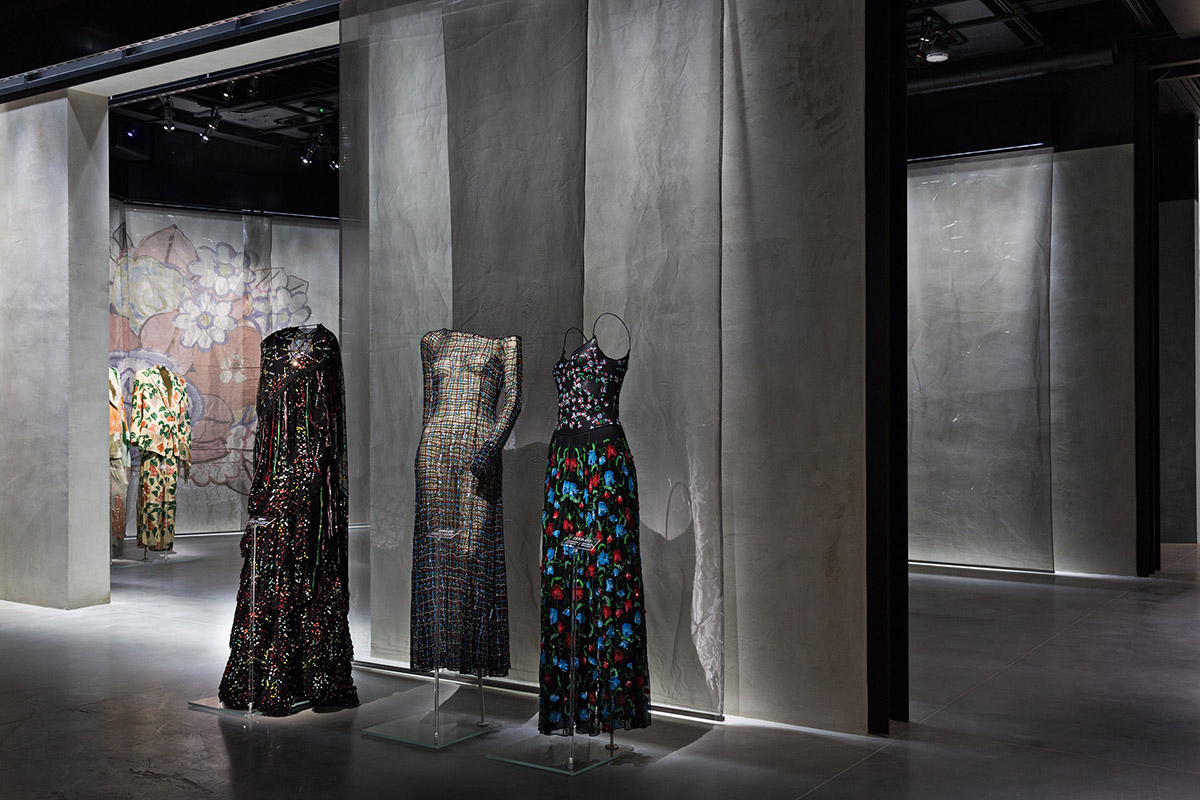 Armani Silos gives you a glimpse into Giorgio Armani's world. Silos is Giorgio Armani's own museum, dedicated to his fashion designs of the last 40 years, displaying around 600 of his works. The museum is located in the Tortona area in a renovated building that was constructed in 1950 as a granary for the Nestlé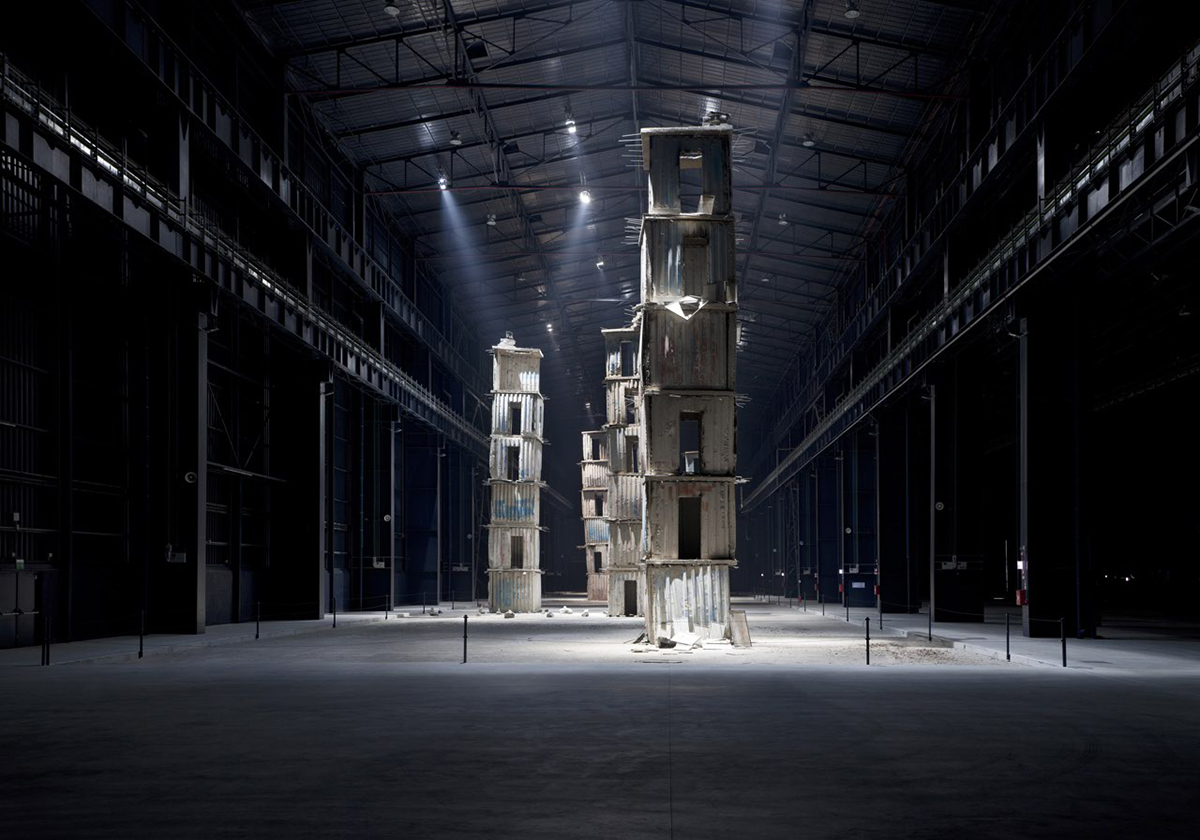 HangarBiocca is a contemporary art museum situated in former factory with monumental permanent installations and temporary shows. Initially opened in 2004 by converting the vast industrial facilities that once belonged to Ansaldo-Breda, HangarBicocca boasts 15,000 square metres of exhibition spaces, making it one of Europe's largest centres for contemporary art. The prominent feature of HangarBicocca is the permanent installation The Seven Heavenly Palaces by the German artist Anselm Kiefer, made specifically for the site. It consists of seven towers made of reinforced concrete, each weighing 90 tonnes and varying in height between 14 and 18 metres.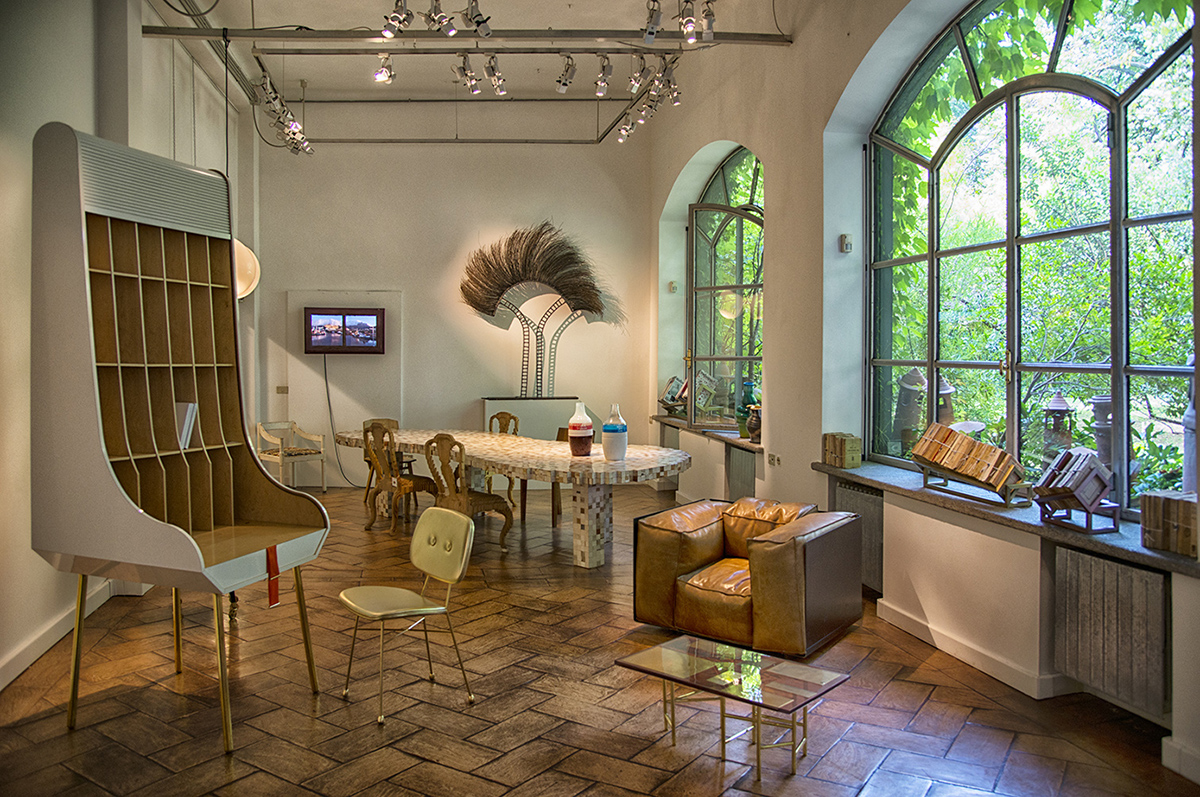 Spazio Rossana Orlandi : Located in a former tie factory on Via Matteo Bandello in the Magenta neighborhood of Milan, Spazio Rossana Orlandi is part design-shop, part gallery, part sun-dappled courtyard cafe – and it's always a highlight of Milan Design Week. But it is also a must visit space whenever you visit Milan. Galleria Rossana Orlandi has been forecasting new and upcoming designers and establishing the premise as one of the most revered platform for avant-garde Design and Lifestyle. The space is articulated in a not traditional way mixing together, showroom, a retail store, offices and a courtyard for events and meeting with no boundaries between the different activities.